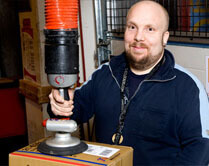 Vaculex AB, which develops and manufactures ergonomic lifting equipment based on vacuum technology, has established operations in Shanghai, China, following a feasibility study that was co-financed by Nopef.
Vaculex decided to perform a feasibility study of the Chinese market for several reasons. Not only does the country hold enormous sales potential, but the company has also identified ongoing demand for its products in China and other countries in Asia. Moreover, local companies are working hard to modernise and improve the efficiency of their production processes and the issues of health and ergonomics are becoming increasingly important in China.
Vaculexs newly renovated premises feature space for around ten people, and are currently used by a staff of three people to handle sales and technical support. The company expects annual growth of around 30% on the Chinese market over the coming years. As regards the longer term, the company emphasises the importance of training staff and working to ensure that the flow of orders continues to increase. Vaculex will also be investing in quality and service equipment. "China has the potential to become our biggest single market in the immediate future," states Ronny Holmsten, CEO.
Vaculex chose to set up operations in Shanghai because the company has established that a large number of decision-makers at interesting potential customers are based in the area, and this location provides access to a highly skilled workforce. The company has also identified good conditions for building up strong networks of both customers and suppliers in the region.
Vaculex focuses on three main areas: general industry, airports and distribution centres. China has 165 airports through which more than two million passengers pass every year. According to Vaculex, most companies on the market use only manual labour to process parcels and luggage, which means that there is huge potential for Vaculexs products in this segment alone.
Vaculex develops and manufactures products to deal with loads of up to 200 kg, and has specialised in lifting equipment for loads of up to 40 kg – i.e. loads that a single person can handle. The company develops its solutions in close collaboration with the customer and takes responsibility for the entire process, i.e. installation, commissioning, service and customer support. Vaculex systems and solutions intended for the fast processing of minor loads are unique.
The principle of using vacuum equipment to assist with lifting is a Swedish invention that was launched towards the end of the 1970s. The founders of Vaculex worked closely with the inventor of the principle for more than ten years to develop the technology. Since 1990 – i.e. four years after the company was founded – Vaculex has worked exclusively with its own products and solutions, and currently sells its products in 35 countries worldwide.
Picture: Vaculex AB