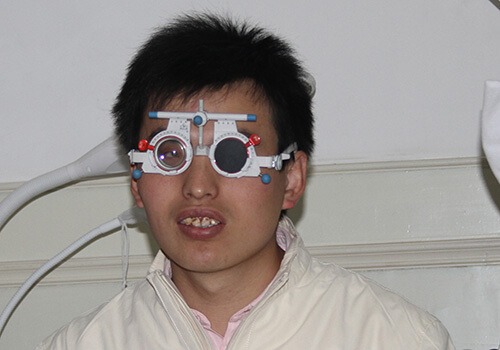 The Norwegian company ProVista AS, which is a specialist in services and products for visually impaired people, has established the company ProVista China Innovation in Beijing after conducting a feasibility study in China that was partially funded by Nopef. Through the initiative, ProVista will be setting up a low vision clinic and an institute for research and development in the area of visual science at the Sekwa Eye Hospital in Beijing. ProVistas objective in China is to deliver its own products and services, to contribute to developing rehabilitation for visually impaired people in China, and to promote the establishment of new low vision clinics in the country.
The feasibility study carried out by ProVista indicates that a major obstacle to commercial development in the area is the lack of professional competence, official administrative guidelines and legal rights. As a result of the study, ProVista found a Chinese partner in Sekwa Eye Hospital, one of the pioneers among private hospitals in China. The long-term goal of the partnership is to develop Sekwa into a centre for sight rehabilitation with its own research and development activities.
According to ProVista, there is a growing need for more effective service for visually impaired people, largely on account of the increasing number of elderly people, but also because people today want to live more independent lives. "The fact that you have to be able to offer visually impaired people aids and technology to help them function in their everyday lives and at work is starting to gain recognition at global level," states Rolf Lund, founder and CEO of ProVista. "For many years, visually impaired people have been simply written off as 'blind, even though more than 90% of them do have some residual vision."
People who have previously left eye clinics convinced that nothing could be done to help them recover their sight are to be given the option of a referral to a low vision clinic, if they wish. This is specifically mentioned in plans from a great many international health organisations, including the WHO. "Calculations indicate that there are almost 20 million visually impaired people in China, but the level of rehabilitation in China for people with this problem is far from satisfactory, and very few clinics offer functioning rehabilitation programmes," adds Rolf Lund.
ProVistas business is currently based on three focus areas: optics, technology and competence. In the field of optics, the company supplies products to improve weak sight, while the area of technology encompasses a wide range of hardware and software products designed to compensate for blindness and impaired vision. Important partners for the company are enterprises that develop and manufacture the ProVista product range as well as clinic staff, researchers and scientists involved in the rehabilitation of visually impaired people. Education and training in understanding weak sight and how to use the equipment also constitute an important part of the business, and ProVista has developed its own e-learning platform for this very reason.
ProVistas goal for the future is to establish two more low vision centres – one in Beijing and one in Shanghai – and to develop the clinics that already exist in Beijing. During the autumn, Nordic ideas about visual rehabilitation were the object of a great deal of focus at a huge event for Chinese ophthalmologists that attracted almost 10,000 participants from all parts of China. "ProVista has established good links with the China Disabled Peoples Federation with regard to additional projects in China, which may well lead to bilateral returns in the fields of teaching, research and development between the Nordic region and China," emphasises Rolf Lund.
Photo: ProVista AS