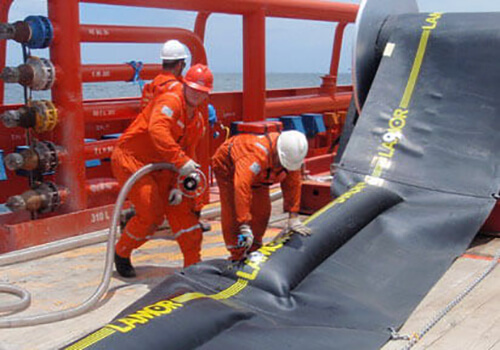 Lamor Corporation Ab is setting up operations in Brazil and has already opened an office in Rio de Janeiro on the basis of a feasibility study that was co-financed by Nopef. The family-owned Finnish company develops and manufactures oil spill response equipment and supplies associated services such as risk analyses, service, training and product development. This spring, Lamor signed its first service agreements with the oil and gas industry. "We will be launching our first projects in the country this autumn," relates Mika Pirneskoski, General Manager, Lamor Americas LLC.
Lamor is currently awaiting confirmation of two new orders and service agreements in Brazil. During the last quarter of the year, the situation regarding drilling licences for the pre-salt reserve should be clarified, with licences being auctioned off to the oil and gas industry. Companies active in this industry must abide by local and international environmental legislation, which involves their having efficient and modern oil spill response equipment. "Lamor holds a strong market position on account of its customer base, and we hope that these customers will be awarded additional drilling and production rights," adds Pirneskoski.
Lamor already has a long history on the Brazilian market through its local network of agents and distributors. In order to tackle competition on the market, however, the company decided that it was necessary to establish local presence in the country. If it is to enjoy a good working relationship with local players, Lamor has to operate production, installation, service and training locally. On account of these factors, combined with an increasing level of activity in several Latin American countries, Lamor carried out a feasibility study in Brazil.
Lamor works with authorities such as ministries of the environment and shipping organisations, as well as the oil and gas industry. The company focuses on bespoke solutions for the most efficient oil collection possible, and its product range features oil skimmers, booms, pumps, boats and recovery vessel systems. Lamor has extensive practical experience with oil spill response situations all over the world, which has proved a great help in the context of product development. Since the early 1980s the company has been carrying out product tests in consultation with the Finnish Environment Institute SYKE, working in the Gulf of Finland and the Bothnian Sea under extreme winter weather conditions. In addition, since 2004 Lamor has been an accredited international training organiser for IMO-certified courses in oil spill response operations in all types of terrain: Arctic, desert, jungle, offshore and rivers. The company runs a global operation that includes subsidiaries in nine countries and a network of agents and distributors covering more than 90 countries.
Picture: Lamor Corporation Ab