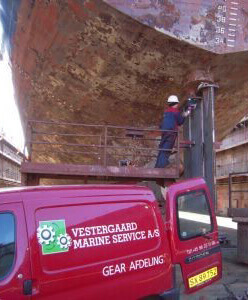 Vestergaard Marine Service A/S (VMS) is a specialist in the field of motor service, repairs and mechanical maintenance of diesel motors on marine and offshore installations and at power plants. The company is based in Frederikshavn, one of the liveliest ports in Denmark, and provides service for all kinds of diesel motors, gears and propellers.
VMS has now established a subsidiary called Vestergaard Marine Service Do Brasil close to the harbour area of Niterói in the Rio de Janeiro region. VMS has chosen to base its subsidiary in Rio de Janeiro as the city is home to around 80% of all oil operations in Brazil, as well as the majority of the countrys shipyards. In addition, greater emphasis on environmental issues among both existing and potential customers offers VMS a favourable position on the market. "The establishment process was not without practical difficulties, but we are now beginning to reap the fruits of our efforts over the past years," says Morten Vestergaard, CEO.
A great many of VMSs customers have expanded their activities to include Brazil in recent years. With a view to maintaining its position of leading service partner – and because Brazil is one of the largest economies in the world, where prospects for the shipping, oil and gas industries are very promising – VMS decided to take a closer look at the Brazilian market. Nopef granted funding for the companys feasibility study in Brazil in 2011.
VMS has joined forces with another Danish enterprise and rented premises at a local Brazilian company. As a result, it has 1,100 m2 of fully equipped workshop space at its disposal. Together, the two companies employ a small team of workers in Brazil, as well as a staff of fitters with permanent residence permits who are working on a project in Guanabara Bay as well as an offshore project in the Atlantic Ocean off the coast of Rio de Janeiro. VMS has highly skilled staff, extensive experience and advanced technology in its field – which are all qualities that are in high demand in Brazil.
In 2011, VMS established its Vestergaard Blue division to supply highly specialised and comprehensive environmental solutions to the maritime industry. The companys product portfolio currently includes solutions for purifying exhaust gases, processing waste water, reducing fuel consumption and converting motors to run on eco-friendly fuel.
Picture: Vestergaard Marine Service A/S