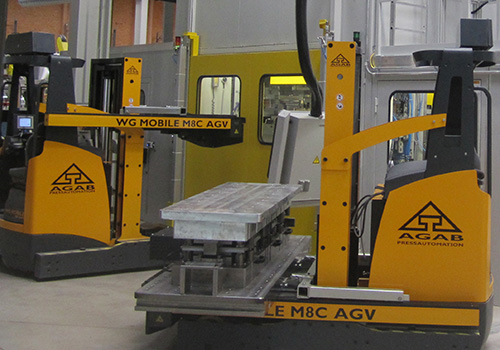 The Swedish company AGAB Pressautomation AB (AGAB) has established a subsidiary in São Paulo, Brazil, in the wake of a feasibility study which was financed in part by Nopef. AGAB is a specialist in the development of customer-specific die changing systems and automation solutions, and has already built up a market organisation with local service on the Brazilian market. The company is currently in phase 2 of its establishment process and is working to expand its business to include manufacturing as well.
AGAB began evaluating the viability of establishing operations in Brazil in 2011 after the company had noted a rapidly increasing interest in its products on the Brazilian market. By setting up its own company in Brazil, AGAB hopes to build up even stronger familiarity with the market as well as access to local financing. AGAB is currently working to adapt its product range to suit the Brazilian market. Anders Gleerup, CEO, explains that the company is now working closely with local suppliers in São Paulo while project management is run from the AGAB headquarter in Sweden.
The product range comprises different die changing systems that can handle dies weighing up to 90 tons, and covers die store, die clamping, magnetic and automation systems. AGAB also develops bespoke products for its customers and delivers complete technical solutions. "We involve the customer from the very beginning of the product development process right up to delivery of the final product," explains Anders Gleerup.
The establishment in Brazil was completed according to plan and is generating good results. Nordic companies wishing to set up operations in Brazil often encounter major challenges, however. AGAB explains that things always take much longer than expected, and all administrative procedures are very complicated. According to the company, the Brazilian tax system is extremely complex concerning both imports and the sale of products and services.
Picture: AGAB Pressautomation AB