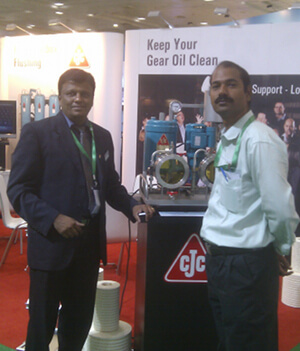 The Danish company C.C. Jensen A/S has developed and manufactures oil filters for several sectors, such as wind, marine, off-shore and the power industry. The company has established a subsidiary, C.C. Jensen Filtration private Limited, in Chennai, India after completing a feasibility study partly financed by the Nordic Project Fund – Nopef.
The filters remove particles, water and oxidation from oil to, for example, reduce gearbox wear, which in turn prolongs the useful life of the wind turbine. The products further help to reduce oil contamination.
A fundamental part of the study has been to gather information about the oil-using industry, power plants and the marine sector in India, which are C.C. Jensens main sectors. The company also participated in the Wind Power India exhibition, which attracted many visitors and resulted in some 60 projects that the subsidiary started to work with.
"The Indian market is really moving forward in a positive direction with the new government. New policies have been initiated, which will boost the Indian industry, especially the wind and solar energy sectors," says Murugan Swaminathan, Technical support Manager at C.C. Jensen India.
The strategy for the subsidiary has been to focus on existing customers within the wind turbine sector and, at the same time, increase efforts towards customers within the power and the marine segments. The wind energy sector is growing in India, which indicates good business potential for C.C. Jensen India, currently supplying both filter units and spare parts for local manufacturers. The subsidiary is starting up a recruitment process to hire more people for the office in Chennai, a region where also other Nordic companies have established their presence.
C.C. Jensen A/S is one of the founding partners and driving forces of the GO2 Green organisation, working for a reduction in energy consumption and an increase in green jobs in Southern Fyn in Denmark. The company is engaged in developing green values. Their CJC Filter Insert, for example, is made of 100% organic cellulose material.
C.C. Jensen A/S was established in 1953 and has developed the hydraulic ship steering system. The company started to manufacture oil filters for marine engines about 50 years ago and has refined off-line filtration for a wide range of applications.
Photo: C.C. Jensen A/S