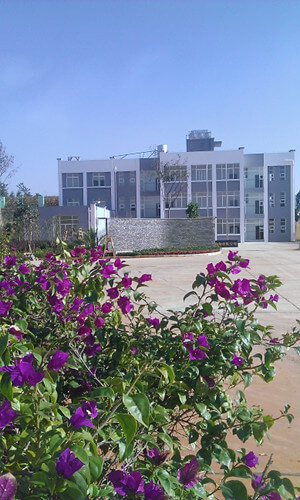 Nordic innovations can contribute to solving environmental problems all over the world. Based in Grimstad, southern Norway, the Norwegian company Høst verdien i avfall AS, has innovated a range of various processes to re-use organic waste by converting it into energy, fertiliser, soil and soil amendments. The company has developed a solution to turn dried fibre residues from biogas plants into mineral-organic fertiliser. Today, Høst processes around 100,000 tonnes of organic residues.The company is also Norways largest supplier of soil and, together with its partners, operates composting plants throughout Norway.
In 2010, Høst obtained financing from Nopef to conduct a feasibility study on the Chinese market. During the ten years since it was established, Høst had grown steadily in Norway and entered into partnership with most of the large waste management companies on the market. "China was chosen because of a string of coincidences, but after having gained contact with the Chinese market, we decided to start the establishment process," explains Høsts managing director, Torleiv Næss Ugland.
Rapid growth, industrialisation and improved living standards in China have contributed to a dramatic increase in the amount of waste produced in the country. This is why Høst thought its products would be in high demand. The huge amount of organic waste from urban areas and agriculture causes water pollution and greenhouse gas emissions.
During the feasibility study, Høst came up against major cultural differences and widespread bureaucracy, not least because the regulations are constantly changing for this type of activity in China. The joint-venture company Yunnan Sino-Norway Bio-Engineering Co. Ltd. was established in November 2012 to assist the Chinese authorities with solving some of the major environmental challenges China faces. The company was forged through a partnership with the Norwegian company Norminor AS and the state-owned Chinese company Yunnan Circular Economy Investment Co. Ltd.
At the time, the Chinese partner had started to work on a major expansion of wastewater treatment plants and waste management facilities in Yunnan Province, which borders Vietnam and Myanmar and which has a population of around 46 million. The organic waste from these facilities would thus be used as raw material to manufacture mineral-organic fertiliser at the plant.
The plant was opened at the end of October in 2013 and has an annual production capacity of up to 50,000 tonnes of fertiliser. The company is currently working on increasing the plants output. The plant was built and is operated by the joint-venture company, which also owns the site on which the plant stands. Today, the fertiliser plant is supplied with raw material from a Chinese poultry company which produces eggs and has 1.5 million chickens. The aim is that the plant will produce fertiliser converted from waste in the region.
"This success story would have been impossible without the establishment of Norminor AS with the Norwegian company Shincon AS, which has long experience of the Chinese market through its consultancy business, which in turn has contributed to good cooperation with the Chinese," says Næss Ugland.
Today, Høst is involved in a feasibility study, also partly financed by Nopef, in neighbouring Vietnam. Høst has learnt a lot from its work in China as a pioneer in an emerging market. In Vietnam, the idea is therefore to partly work together with the private sector, partly through exporting raw materials from Norway from the companys new fertiliser plant in Stavanger before embarking on local production.
Photo: Høst verdien i avfall AS