Calling Nordic Companies with Green and Sustainable solutions in Energy Efficiency, Food & Packaging Waste Management and Waste Value Optimisation to join the 'Nordic Innovations in Circular Economy and Energy Efficiency' delegations to Singapore in June and October 2023.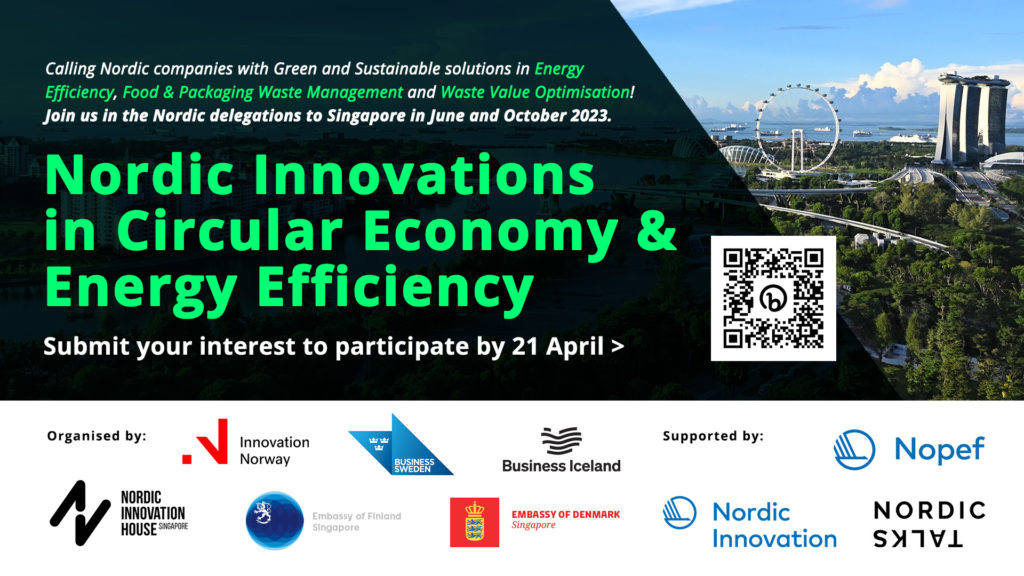 The objective is to present Nordic companies and solutions to public and private key stakeholders and enable business connections in Singapore and across Asia, highlight Nordic green innovations and connect Nordic companies with potential business opportunities in this region.
This is jointly organised by Nordic Innovation House Singapore, Innovation Norway, the Embassy of Denmark in Singapore, the Embassy of Finland in Singapore, Business Sweden and Business Iceland, and supported by Nordic Innovation, Nopef (Nordic Project Fund) and Nordic Talks.
Apply to participate in these events
[Delegation to Singapore] 5 – 9 June: Nordic Innovations in Circular Economy

– during Ecosperity Week in Singapore

[Event in Helsinki] 1 June: Cities & Circular Economy

– during World Circular Economy Forum

[Delegation to Singapore] 23 – 27 October: Accelerating Nordic Innovations to Singapore & Asian Markets

– during Singapore International Energy Week in Singapore
Who can apply
The event and delegations are open to Nordic SMEs from Finland, Norway, Sweden, Denmark and Iceland who operate in the three sub-sectors listed:
Energy Efficiency

solutions to reduce the carbon emission of industrial and commercial buildings; optimise energy usage with more energy-efficient equipment (e.g. cooling, ventilation), energy storage (e.g. solar power, tracking, recycling), asset monitoring and maintenance optimisation, and BMS.



Food & Packaging Waste Management

includes preventing and reducing food wastage at source, redistribution, recycling, food waste treatment, recovering energy and packaging redesign and material. 

Waste Value Optimisation

includes locally generated waste streams such as wood waste, construction waste, and e-waste. 
Benefits for Nordic companies
By participating, you will:
Gain valuable insights into Singapore's innovation ecosystem, business landscape and market opportunities

Pitch and showcase your Nordic solutions to key stakeholders, government agencies, public and private organisations in Singapore

Be invited to exclusive networking receptions and B2B business matchmaking events

Participate in site visits and meetings 
How to participate
Submit interest form by 21 April 2023: https://bit.ly/2023-Nordic-Delegations
Financial support for participating companies through Nopef
For Nordic SMEs with less than 250 employees and innovations providing environmentally sustainable innovative solutions for Energy Efficiency, Food & Packaging Waste Management and Waste Value Optimisation, Nopef provides an opportunity to have 50% of the expenses (up to EUR 3000 in support) reimbursed from these delegations. 
Nordic companies selected for the delegations will receive the Nopef application forms from the delegation organisers. It will take up to 3 weeks to process and the final decision is upon approval from Nopef. The submission deadline for Nopef application is 26 April 2023. Submit early to secure your spot. 
Note: Nopef application forms will only be provided to companies who submit the interest form by 21 April. 
More information
For more information, please contact your country representatives:
Watch the webinar recording
Learn more about the 'Business Opportunities in Circular Economy & Energy Efficiency in Singapore' in this webinar recording, including details about the delegations to Singapore.