Calling Nordic companies with green and sustainable solutions in circular economy and energy efficiency to join us in the Nordic delegation to Singapore from 23 – 27 October 2023.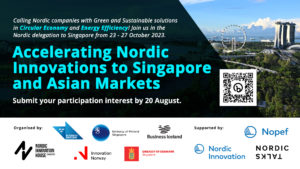 The 'Accelerating Nordic Innovations to Singapore & Asian Markets' delegation aims to present Nordic companies and solutions to key stakeholders and business connections within the Circular Economy and Energy Efficiency sector in Singapore and across Asia. It will be held during the energy week in Singapore.
This is jointly organised by Nordic Innovation House Singapore, the Embassy of Finland in Singapore, Business Sweden, Innovation Norway, the Embassy of Denmark in Singapore, and Business Iceland, and supported by Nordic Innovation, Nopef – Nordic Project Fund and Nordic Talks.
How to participate
Submit participation interest form by 20 August 2023. Click here to submit now.
Who should apply
Nordic SMEs from Finland, Norway, Sweden, Denmark and Iceland who are seeking market expansion in Singapore and operates in:
Energy Efficiency solutions to reduce the carbon emission of industrial and commercial buildings; optimise energy usage with more energy-efficient equipment (e.g. cooling, ventilation), energy storage (e.g. solar power, tracking, recycling), asset monitoring and maintenance optimisation, and smart grids.

Circular Economy and Construction

Sustainable Food and Food Waste 

New Sustainable Materials (eg. Plastic, Packaging)
Objectives
To present Nordic companies and solutions to public and private key stakeholders and enable business connections in Singapore and across Asia

To highlight Nordic green innovations

To connect Nordic companies with potential business opportunities in this region
Financial support for participating companies through Nopef
For Nordic SMEs with less than 250 employees and innovations providing environmentally sustainable innovative solutions for Energy Efficiency and Circular Economy, Nopef provides an opportunity to have 50% of the occurred costs (up to EUR 3000 in support) reimbursed from these delegations.
Nordic companies selected for the delegations will receive the Nopef application forms from the delegation organisers. It will take up to 3 weeks to process and the final decision is upon approval from Nopef.
The submission deadline for the Nopef application is 28 August 2023.
Note: Nopef application forms will only be provided to companies who submit the interest form by 20 August. Submit now!
Contact persons
For more information, contact your country representative below:
Norway: Innovation Norway: Susanna Quek – susanna.quek@innovationnorway.no
Sweden: Business Sweden: Nicole Cham – nicole.cham@business-sweden.se
Denmark: Embassy of Denmark in Singapore: Mark Perry – markpe@um.dk
Finland: Embassy of Finland in Singapore: Irma Ylikangas – irma.ylikangas@formin.fi
Iceland: Business Iceland: Svanhvít Aðalsteinsdóttir – svanhvit.adalsteinsdottir@utn.is
Watch the webinar recording
Learn more about the 'Business Opportunities in Circular Economy & Energy Efficiency in Singapore' in this webinar recording, including details about the delegations to Singapore.